This picture reminds me of my mom because it's just so pink (her favorite color).
Have you noticed I've been in more of a visual mood lately? It's a combination of a couple of things that have happened recently.
1. I'm obsessed with my camera and taking pictures.
2. I have an almost-2 year old and a one-month old so I really don't have a lot of time to write.
I plan on changing that soon and getting back into a writing mood, since it is such a very important part of who I am. It's a part of me that has been neglected recently in pursuit of other things, like being a mom.
But until then, I hope you enjoy the pictures. And thank you for the comments. They really do make my day. :)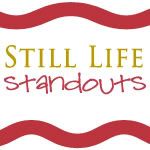 Hosted by Cecily and Lolli