I found this recipe a few weeks ago and have been dying to share it. It is so simple and so tasty and only 5 ingredients that I'm sure you have right now. Intrigued? Ok, here goes.
1 cup of Peanut Butter
1 cup of sugar (or a sugar substitute like Splenda)
1 egg
1 teaspoon of Vanilla Extract
-Preheat the overn to 350 degrees. Grab a large baking sheet, cover it in tin foil and then spray some non-stick cooking spray on the foil. Mix all of the ingredients together. Roll small balls of the dough (which will be very sticky) in some sugar or sugar substitute. Place them 2 inches apart on the baking sheet. Because I think that peanut butter and chocolate is a heavenly combination, I add a square of dark chocolate to the top. Bake them for 12 minutes and then let them cool before removing them from the pan.
These are seriously delicious and super simple. Just don't be like me and get addicted. :)
Alright, time for an announcement. I've had this idea for a while now and am just now launching it. I love most types of photography. For most of these different types, there seems to be someone who hosts a challenge to get us shooting those types of pictures. The
Paper Mama
has challenges geared specifically to help us take better photos of our kids. Ashley from
Ramblings and Photos
hosts Scavenger Hunt Sunday to get us taking pictures every week.
Branson
hosts an editing challenge that I love. Ewa hosts
Flowers on Saturday
so we can show off our best flower images. And I'm leaving out lots of challenges that I really enjoy.
So let's channel some of those skills and start sharing some pictures.
You can use your dslr, point-n-shoot, or cell phone. I don't care. Share one picture or share ten. Share a recipe or give us a photo tutorial. Whatever you feel like doing...it's completely up to you. You can share a dessert (my personal fave), a dinner, lunch, breakfast, takeout...it doesn't matter. Just link up your pictures of something you ate during the week.
Each week, I'll share some of my favorite photos that were submitted on my blog with a link back to your post.
Sound fun? Ok, let's do this. :) Feel free to add the button to your post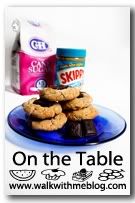 I can't wait to see what you come up with!

Hosted by Cecily and Lolli