Hi everyone...before we get to Scavenger Hunt Sunday, I want to make you aware of a new photo challenge/link up that I am hosting.
It's called
On The Table
and it's all about food photography. I don't know about you, but I love looking at the stylized food shoots in magazines like Better Homes and Gardens and I'd love to practice. So... in an effort to motivate myself, I'm hosting a link-up where we can all practice together. You can choose to shoot a fancy dinner scene, step by step shots of a recipe, or just iPhone pictures of your dinner at the restaurant. It's your choice.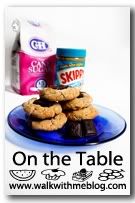 If you want to read more or link up, go
here
. :)
Ok...now onto the Scavenger Hunt.
Stairs:
I always think that people who choose to stand around and feed the birds are a little odd.
Macro:
He's almost 6 weeks old already.
Clouds:
Bellingham, WA.
Abstract:
Props to whoever can guess what this picture is...


Smile:
Enjoy your week!